I joined the International Aroid Society (IAS) a little over a year ago and began a local chapter, the MidAmerica chapter to meet with other Aroid growers in the central part of the country. The IAS is full of people who are very knowledgeable about this very popular plant family.
The Aroid family is huge, made up of many common houseplants, as well as some very rare and hard to find tropical plants. In fact, many new Aroids are being discovered every year. Some Aroids you are probably familiar with are the Peace Lily (
Spathiphyllum
), Chinese Evergreen (
Aglaonema
), Dumbcane (
Dieffenbachia
), Hawaiian Volcano Flower (
Anthurium
). Some of the largest and some of the smallest plants in the world belong to the Aroid family. The largest inflorescence (bloom) in the world belongs to an Aroid called the Titan Arum (
Amorphophallus titanum
), pictured below.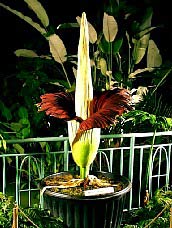 Titan Arum (Amorphophallus titanum)
The IAS disseminates the latest and greatest information about growing Aroids and identifying your plants. The society is made up of professionals in botanical research, amateur growers and lots of people in between.
Recently there have been several regional chapters forming, which allow us to meet in person more often and do fun things like plant swaps, listen to talks about our plants and tour botanical gardens. The next MidAmerica chapter meeting is being held at the Fort Worth Botanic Gardens on Saturday, October 30. More to come on that soon!
I was just asked to serve on the Board of Directors for the IAS over the next 3 years. We are hoping to encourage more members to join this wonderful group. If you like growing Aroids, you should definitely consider joining. Membership is only $25 annually, and it includes a very professional, high-quality and lengthy journal called Aroideana. You can see the contents of past Aroideana issues on the
website
. We also distribute quarterly newsletters with a lot of great information.
You can join online at
http://aroid.org/society/joinias.php
.