I don't mean for this post to be an advertisement (for any particular magazine or plant vendor). I'm just excited because I received my first issue of Fine Gardening today and already found something of infinite worth in it - a plant for my corner garden. My wife got me the Fine Gardening subscription as a Valentine's gift after I devoured a free issue that I received. The first issue of my annual subscription arrived today.
Just a couple pages into the magazine I was stopped dead in my tracks by a photograph of a flower unlike any I had seen before. It had the common Daisy/Gallardia-type look to it, but the color... that was a different story. Anything but ordinary, the center of the flower was a purplish blue. The petals faded from almost black at the center to a glowing amber at the tips.
I quickly went to my computer and found the website of the grower -
Bluestone Perennials
. But it took some time before I discovered the name of the flower that had caught my attention. There are thousands of plants for sale on Bluestone's website, but nothing was going to stop me from finding the gem I had seen in the magazine. [Can you believe they didn't mention the name in the advertisement? Maybe that is their way of getting you to spend time on their website and find other plants you want to buy. That's actually a pretty good marketing scheme.
It worked on me.
]
After seeing a flower with similar form and a dark center, like the one I had seen in the magazine, I was pretty sure that the plant was from the Rudbeckia genus. Doing a search for Rudbeckias brought up all sorts of flowers that I wanted to plant - including the one for which I had been searching.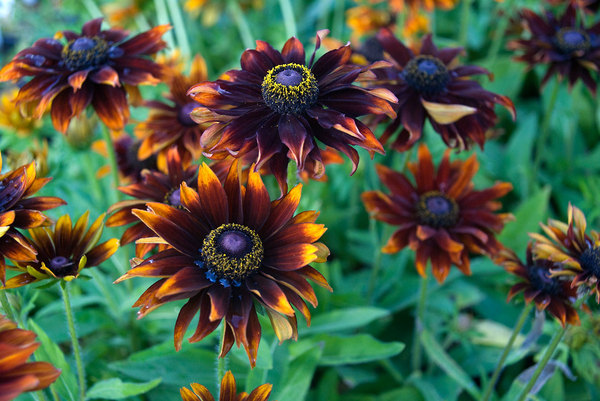 Rudbeckia hirta 'Moreno' - Gloriosa Daisy, Coneflower - courtesy of Bluestone Perennials.
I was very excited to see that not only is my zone listed in the plant's description, my zone is in the middle of the pack. That's good news. I didn't want to be on the cusp of being able to keep these flowers. I would like them to flourish.
My mom used to grow some cornflowers that were very pretty and came back each year from seed. Apparently there are four related genera of plants that use the common name of coneflower, and who knows how many species for each of those genera.
I think the plants my mom grew were from the genus Echinacea and are generally much taller (around 3-4 feet in height). On average, Rudbeckias tend to be 1-2 feet in height. At least that is what I am seeing in my preliminary research.
The particular plant that I am interested in is a color cultivar of Rudbeckia hirta. The common Rudbeckia hirta is known as the Black-eyed Susan - a well known, and rather ordinary-looking, yellow flower. They are pretty, but I want something in my garden that pops - something that stands out - something that people have not seen before.
I have never seen any flower with this coloring before. I'm hooked. I'm already trying to figure out how many of these I can afford to purchase. Here is another color variety that caught my eye: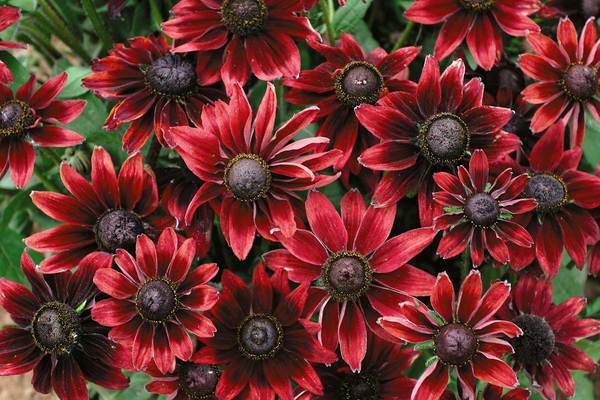 Rudbeckia hirta 'Cherry Brandy' - Gloriosa Daisy, Coneflower - courtesy of Bluestone Perennials.
This variety is a little bit taller, reaching as much as 2 feet in height. As I noted in my
new year's resolutions post
, my corner garden needs some attention this year. I would like to plant both of these in that garden, adding a splash of red and purple and a splash of orange and purple.
What do you think?