Beginning
Our beloved "corner garden" was installed during the Summer of 2006. One corner of our yard was particularly shady, so there wasn't any grass growing there. Additionally, there is an unsightly utilities pole in that corner. We decided to create a corner garden by erecting a wood fence inside of the corner of our yard and building a tiered garden in front of the fence. We were lucky enough to have some neighbors doing some landscaping which left over a huge pile of dirt. They were happy for us to haul it off and we were happy to have some free dirt. We weren't as happy about the 50+ trips we made with the wheelbarrow to haul the dirt, though. :) We also came across some free rocks from a relative who wanted them out of her garden. Those we loaded in a truck.
Future site of the corner garden. Rocks were just being laid out to form the shape and dirt filled in.
We used the rocks to create 3 tiers and hold the dirt in place. We were very happy with the outcome of our garden.
The corner garden once it was first complete (summer 2006). None of the plants pictured are still in the corner garden. If you look closely you will notice that the entire flowerbed is shaded.
We vigorously planted the corner garden the first year and it looked very nice for the first two years. The Hostas got larger and several of the Heuchera (Coral Bells) came back. The garden was starting to mature.
Change
However, during December of 2007 central Oklahoma had a really bad ice storm, resulting in the loss of a lot of beautiful trees. Several of the scraggly trees from our neighbor's yard lost limbs that were responsible for shading the corner garden. As a result, last summer most of the shade plants that we had established began to die under the intense full sun. Several plants were removed and relocated before it was too late. But the plants left a void.
The current state of the corner garden. It looks pretty good, but most everything green only lasts for a couple of months during the early Spring. Soon it will all die back, leaving very little to look at during the Summer.
Right now the garden looks nice because it is filled with the colors of Spring bulbs. But soon those will turn brown and die back until next Spring. And there will be very little green left in our garden for the remainder of the Summer.
It's really sad, because the corner garden is a foundation of our backyard and one of our inspirations for continual improvement. This year it needs some attention.
Revival
We are going to invest some of our gardening budget this year on reviving the corner garden with colorful perennials that are meant for a full-sun garden. The goal is to have the corner garden looking great all year long. At its current state, the corner garden only looks up to par during the Spring.
I have already ordered some
Rudbeckias
, which will provide color during the Summer. We planted some creeping Phlox a couple of years ago, but it hasn't rebloomed until this year. We're excited about that coming back.
I have also been thumbing through the plant catalogs and decided that the late Summer and Fall color will be attained by a collection of Asters. Bluestone Perennials has an "Aster Collection," which includes 5 plants of different colors. I can't remember the exact names of the plants, but there was a purple, a blue, a red and a white. The value of the collection is that you get several different colors for a reduced price. Lots of color and reduced cost sounds good to me!
Bluestone Perennials also has a bush to add vivid Fall color - Euonymus alatus compactus. This shrub is commonly called "Burning Bush" because of it's bright red foliage in the Fall. It also produces small red berries that remain after the leaves have fallen at the end of the Fall.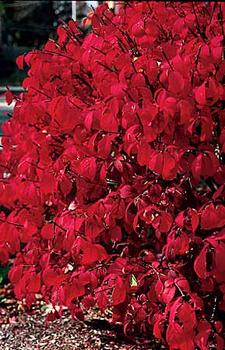 Dwarf Burning Bush (Euonymus alatus compactus), available from Bluestone Perennials.
And finally, we will need some evergreen plants mixed into our corner garden. Sometimes I don't really consider green to be a color when it comes to plants, but compared to brown, dormant plants - green will do nicely.
I haven't figured out what type of evergreen plants to put in our garden. I really like the junipers that we have planted around our
garden waterfall
. Maybe I'll plant something like that, but I don't think the same type would fit with the feel of the corner garden. I've got some time to think about that, though.
Expansion
While the year-round color is a goal we expect to cover this year, we have another short-term goal that will probably be done in the next two years. Last Spring we transplanted a Redbud tree along the fence line, about 10 feet away from our corner garden. We have been talking about expanding the corner garden along the back fence line (to the right with respect to the corner) to enclose the Redbud tree.
Here's a little sketch of the existing corner garden and original fence backing (in bold) and the planned extension (fainter line).
Sketch of my plan for expanding the corner garden
The existing corner garden has 3 tiers, but the extension will only be for the lowest tier level. It will allow us to plant some more things, including some larger items, like the small "Burning Bush" shrub shown above.
What do you think of our planned expansion?